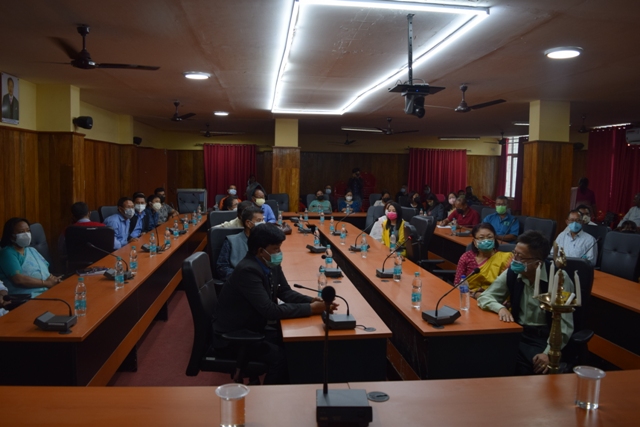 A new chapter of Vivekananda Kendra Institute of Culture (VKIC) was launched in Manipur on 8th November, 2021. The launching programme was held at the Auditorium of Central Agricultural University, Lamphelpat, Imphal West with a Sanskriti Anveshak Session  on – 'Indigenous Food Culture, Microbiome and Health' delivered by Prof. Debananda Ningthoujam of Manipur University. 
Prof. Anupam Mishra, Hon'ble Vice Chancellor, Central Agricultural University, Manipur was the Chief Guest and Prof. Paonam Gunindro Singh, Hon'ble Vice Chancellor, Manipur University of Culture, Manipur was the Guest of Honour of the day. Mananeeya Kishoreji Tokekar, Jeevanbrati Karyakarta and Joint General Secretary, Vivekananda Kendra Kanyakumari and Adaraneeya Rupeshji Mathur, Jeevanbrati Karyakarta and Prant Sanghatak, VK Arunachal Pradesh, and also Prabhari of VK Manipur, graced the occasion.
The function commenced at 3:30 pm with Mangalacharanam by Sri Siddharth Huidrom, Karyakarta of Vivekananda Kendra branch Imphal. It was followed by a power point presentation on VKIC's vision and its activities by Dr. Kathakali Bhattacharjee, Jeevanbrati Karyakarta and VK Imphal nagar sangathak. 
After the power point presentation, the dignitaries were escorted to the dais by Ojha Kulachandra Sagolsem, a senior karyakarta of Vivekananda Kendra Manipur. The Chief guest and guest of honour were felicitated by Mananneya Kishoreji from VKIC and Mananeeya Kishoreji was felicitated by Prof. Anupam Mishra, VC of Central Agricultural University.
Adaraneeya Shri Rupesh Mathurji in his welcome speech expressed his happiness and gratitude for this most awaited moment of launching  the chapter. He talked about Vivekananda Kendra Kanyakumari and Vivekananda Kendra Institute of Culture in particular. He in his speech appealed for the support and help of the people in all the endeavor of Vivekananda Kendra's work in Manipur. 
Mananeeya Kishoreji Tokekar addressed the august gathering and in his speech he shared the inspiring story of how the Vivekananda Rock Memorial in Kanyakumari was established. Also mentioned the various platforms where Kendra work is being carried out especially in health, education, skill development etc. Mananeeya Kishoreji hoped and prayed that in future with the support of the local people, Vivekananda Kendra would be able to serve the people of Manipur in all these various sectors. 
The main speaker of the programme Prof. Debananda Ningthoujam, thanked VKIC for giving him the opportunity of being a part of this historic moment. In his lecture entitled, "Indigenous Food Culture, Microbiome and Health", he elaborately talked about microbiome and cell and its relation to food and culture. The changing food habits and lifestyle changes affecting the health were also discussed in detailed.  He stated that, "we need to preserve our knowledge and tradition regarding food habits and its high time we reorient our younger generation to our traditional food habits".
Prof. Paonam Gunindro, Guest of honour of the day, complemented Prof. Debananda's lecture and talked about changes in food habits and how it has affected the health of the people especially, the younger generation. He reiterated that, it is the right time to nurture and revive our medicinal plants and that VKIC has taken up an important task of preserving and conserving such cultural practices.
Prof. Anupam Mishra, the chief guest of the day, gave a Power Point presentation on the social aspect of food habits. Slides were shown about indigenous foods, Manipur Raj Bhoog in an illustrated manner and its nutritional aspects.  He complimented the speech of Prof. Debananda and said that VKIC would document many such other practices of Manipur.
The programme was compered by Dr. Wahengbam Saritarani, Karyakarta, VKIC Manipur chapter and vote of thanks was given by Prof. R.K. Somorjit, retired professor, Manipur University. 
The programme was conducted both in offline and online mode and was attended and participated by many from all walks of life and was concluded with Shantimantra by Kathakali didi.