Background

Date:10th June -12th June 2023 
​​
Venue: Namsai, Arunachal Pradesh, India 

Foreign Participation - 34 participants from 24 countries, including a former Deputy Prime Minister (Thailand) and 1 Ambassador and 1 High Commissione

Total Participants - 300 

No of organizations participated (NGO/CSO) - 53
---
Inaugural Session
The final seminar of the working group on Diversity, Inclusion, and Mutual Respect opened with its inaugural session, featuring a welcome address by Dr. Joram Begi. Dr. Begi is the National Coordinator for Diversity, Inclusion, and Mutual Respect (DIMR) and also serves as the Chairman of the Vivekananda Kendra Institute of Culture.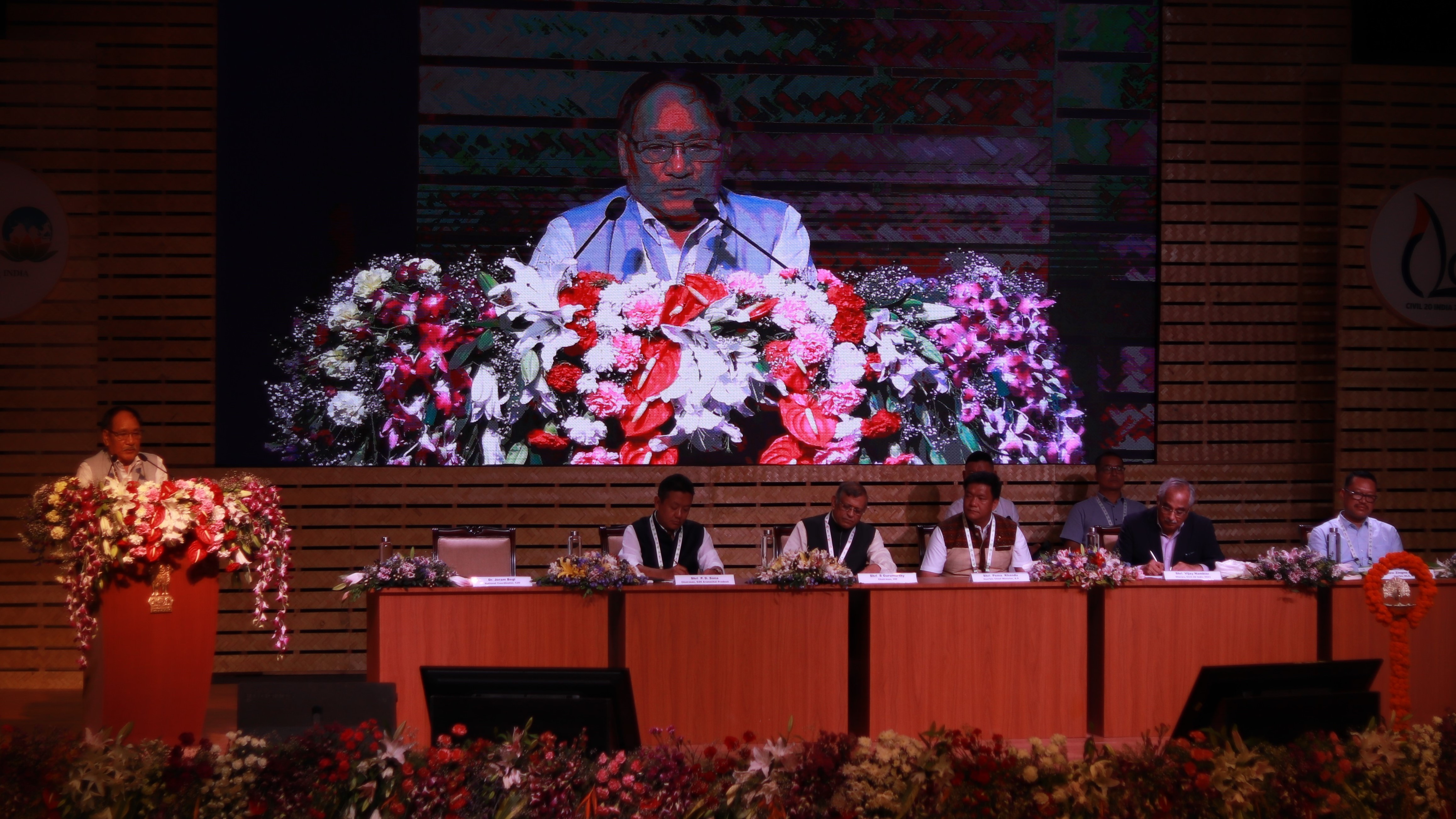 During his welcome address, Dr. Begi highlighted the significance of the seminar and its theme. He mentioned that the voices and aspirations of the global population, often represented as "C20", play a crucial role in communicating the desires and needs of people to the leaders of the G20 nations. The G20 is a group of major advanced and emerging economies that come together to discuss global economic cooperation and policy making.
Dr. Begi emphasized the central aim of the seminar's theme, which is no one should be left behind.
The keynote address of the seminar was delivered by Shri S Gurumurthy, the Chairman of the Vivekananda International Foundation. Shri Gurumurthy emphasized the interconnected nature of diversity, inclusion, and mutual respect. He argued against the idea of "one size fits all" approach, highlighting that different societies and individuals have unique needs and characteristics that should be acknowledged and respected.
Drawing from India's own example, Shri Gurumurthy emphasized that the country is proof that diverse people can coexist peacefully. He pointed out that despite India's rich tapestry of cultures, languages, and traditions, people from various backgrounds can come together and live harmoniously. He concluded his address by suggesting that a comprehensive global discussion on diversity should take place.
Following the keynote address, Shri Vijay Nambiar, Sherpa for C20 India 2023, spoke about the importance of empathy and camaraderie among individuals. He stressed that peaceful coexistence is achievable when there is mutual respect for one another's differences. Nambiar also highlighted that inclusion should aim to enrich and expand our understanding. He urged the audience to sensibly embrace diversity to enhance their lives. He also noted that many marginalized groups still face oppression, and it's everyone's responsibility to ensure their safety and inclusion.
Shri P D Sona, Hon'ble Speaker of the Legislative Assembly of Arunachal Pradesh and Chairman of G20 programs in the state, addressed the gathering. He underscored the significance of the seminar's theme in the context of Arunachal Pradesh, which is marked by its diverse tribes, cultures, dialects, and food habits. He referred to the state as a microcosm of India's macrocosmic diversity. Sona emphasized that the theme practically resonates in Arunachal Pradesh and encouraged mutual respect not only among humans but also towards all living beings on the planet.
The Chief Minister then took the stage, providing an overview of Arunachal Pradesh's diverse composition, with over 26 major tribes and 100 sub-tribes coexisting harmoniously. He attributed this harmony to the relentless efforts of community-based organizations working towards the state's betterment. The Chief Minister also highlighted India's commitment to being people-centric and inclusive, as well as its role in finding global solutions, exemplified during the pandemic. He emphasized the idea of the world as one big family, where helping others is equivalent to helping ourselves.
The session concluded with a vote of thanks delivered by Chau Zingnu Namchoom, expressing gratitude to all the speakers and participants for their valuable contributions and insights during the seminar's opening session.
---
First Plenary Session
GENERAL DELIBERATION ON THE THEME OF DIVERSITY, INCLUSION MUTUAL RESPECT
The session was moderated by Ambassador Vijay Nambiar, Sherpa, C20 India, 2023. There were six presenters who shared their perspectives on the theme:
Padmashree Nivedita Bhide: As the first speaker, Man. Nivedita Bhide, Vice President,Vivekananda Kendra and a member of the Steering Committee of C20 India, discussed the concept of human progress as a spiral progress. She highlighted that both inner and outer development are crucial for holistic growth. Outer development encompasses connectivity and other material advancements, while inner development involves a spiritual understanding of the universe. Man. Bhide emphasized that these two aspects need to grow in parallel, as stagnant growth in one aspect hinders overall progress. She also stressed that biodiversity is interconnected with every being and that diversity, community, and tradition must be realized as aspects of oneness for true achievement.
Swami Paramatmananda Saraswati: The second speaker, Swami Paramatmananda Saraswati, Secretary General of Hindu Dharma Acharya Sabha and Founder of Arsha Vidya Mandir, discussed biodiversity, inclusiveness, and mutual respect within the context of India's living biodiversity. He highlighted that Indian religion epitomizes inclusion and mutual respect for all entities. He mentioned that no entity exists in isolation, and acknowledging coexistence is essential. He pointed out that modern society has become more judgmental, with concepts like exclusivity and intolerance posing threats to diversity. These divisive forces must be halted to prevent marginalization, and spaces should be created where every voice is heard.
Swami Mokshamritananda Chaitanya: The third speaker, Swami Mokshamritananda Chaitanya, a representative of the Chair of Mata Amritanandamayi Devi, focused on motherhood as an expression of embracing differences. He asserted that true inclusiveness and mutual respect arise when individuals view others as extensions of themselves. He criticized religious conversions as being anti-secular and anti-human, hindering inclusion, tolerance, and mutual respect. Swami Mokshamritananda Chaitanya proposed placing motherhood as a central theme in all religions, which could remind humanity of unconditional love and bridge the gaps of discrimination, ultimately fostering inclusion and tolerance within diversity.
Mr. Korn Debbaransi: The fourth speaker, Shri. Korn Debbaransi, former Deputy Prime Minister of Thailand and President of the Thai-India Friendship Association discussed the role of C20 as a people-to-people organization. He highlighted that achieving inclusion and mutual respect should not be the endpoint but rather a steppingstone. He proposed a chronological approach where harmonization, peace, and prosperity would follow inclusion and mutual respect, ultimately leading to progress in the goals of C20.
Professor Amarjiva Lochana: The fifth speaker, Professor Amarjiva Lochana, General Secretary of ICCFM (Indian Coordination Committee of Farmers Movements), spoke about the role of C20 during the COVID-19 pandemic. He emphasized that C20 serves a higher purpose beyond being a mere gathering. It serves as a platform to listen to and address the problems faced by the world.
Smt. Mariia Timashova: The sixth speaker, Smt. Mariia Timashova from ICCS (International Centre for Cultural Studies), Russia, discussed the transformative power of diversity and the importance of inclusion. She highlighted that unity and humanity hold the key to solving the world's problems. Timashova stressed that attentive listening is essential to identify this transformative power, and through inclusion, we can better understand each other and work toward solutions.

Overall, the first plenary session explored diverse perspectives on the themes of diversity, inclusion, and mutual respect, emphasizing the interconnectedness of these concepts and their relevance in addressing global challenges.
---
Second Plenary Session
UNDERSTANDING INCLUSION AND MUTUAL RESPECT IN THE CONTEXT OF DIFFERENTLY ABLED (DIVYAANGJA) AND GENDER ISSUES
The moderator of the session was Shri Anup K Mahapatra, Vivekananda Kendra-Academy of Indian Culture, Yoga and Management, Bhubaneswar. Here's a summary of the insights shared by each speaker:
Shri Nisheeth Mehta: Shri. Nisheeth Mehta, founder and CEO of Microsign Products, discussed the potential of differently-abled individuals becoming assets rather than liabilities. He emphasized the importance of providing opportunities to them instead of being prejudiced. He suggested sensitizing society and raising awareness about differently-abled individuals, focusing on their abilities rather than treating them as fundamentally different.
Shri Gopishankar M: Shri. Gopishankar M, South zone representative of the National Council of Transgender Persons, highlighted the distinction between transgenders and intersex individuals. He noted that queer lives often involve trauma and suffering. Self-acceptance is a crucial step before seeking societal acceptance. He stressed that the Western concept of LGBTQIA+ doesn't encompass all indigenous sexual identities. Inclusion extends beyond empathy, aiming to accommodate and embrace every identity.
Professor Satya Mahapatra: Professor Satya Mahapatra, Director of the Institute of Health Sciences in Bhubaneswar, emphasized that diversity is not a choice, particularly when dealing with differently-abled children. He critiqued labelling and suggested a need for comprehensive therapeutic care, incorporating modern technology to address their needs. He proposed that India should develop technology to bridge existing gaps.
Dr. Aparna Lalingkar: Dr. Aparna Lalingkar, SPPU Senate Member, discussed about the "rainbow economy" and the capitalist influence on LGBTQ agendas. She advocated for awareness against gender change at a young age due to potential complications.
Dr. Yuwalee Unpapron: Dr. Yuwalee Unpapron highlighted the importance of education in breaking down barriers related to disability and gender issues.
Dr. Chirapat Prapandvidya: Dr. Chirapat Prapandvidya, a Padma Shri awardee, shared a philosophical perspective on temporality. He suggested that viewing everything as temporary could help mitigate issues and differences, including diversity.
Smt. Gaile Vonagiene: Smt. Gaile Vonagiene, a Romuva High Priestess from Lithuania, discussed linguistic and cultural similarities between Lithuanians and Indians. She emphasized the significance of worshiping nature and concluded that human well-being depends on their faith.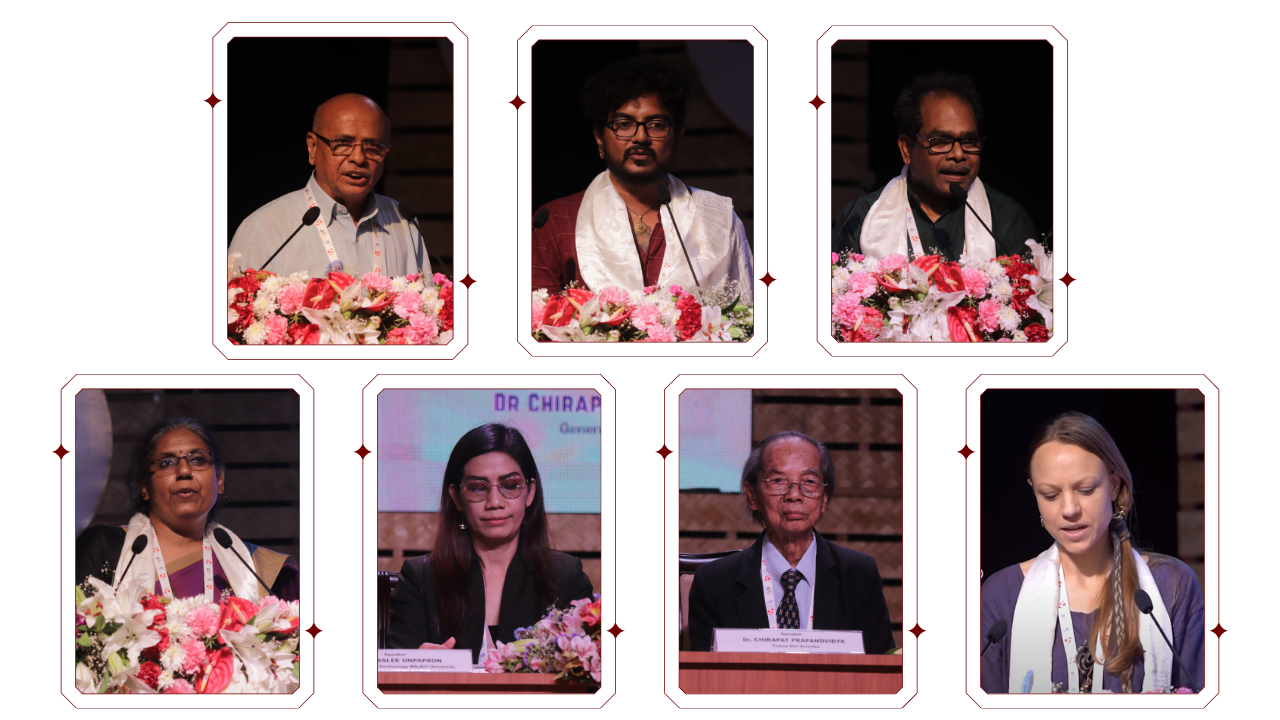 These speakers collectively provided diverse perspectives on inclusion, diversity, and mutual respect, offering insights from various fields and experiences. The discussions highlighted the importance of acknowledging different identities and embracing them in a holistic manner.
---
Third Plenary session
CULTURE AND FAITH OF INDIGENOUS COMMUNITIES: TOWARDS SUSTAINABILITY AND DEVELOPMENT 
Here is a summary of the speakers and their insights from the panel discussion based on the sub-theme:
Moderator - Dr. Joram Begi: Dr. Joram Begi, the National Coordinator of WG DIMR and Chairman  VKIC, introduced the sub-theme's relevance, particularly in the context of Arunachal Pradesh. He highlighted how the state has preserved its culture and faith, setting an example for the rest of the country. He emphasized the need to value culture and language while advocating for both traditional and modern education.
Prof. Bhagat Oinam: Prof. Bhagat Oinam, Director of JNIAS, JNU, discussed the mantra of sustainability and development. He stressed that while modernity, science, and technology are important, they come at a cost, often involving environmental exploitation. He highlighted the necessity of acknowledging the indirect rights of the environment and the importance of coexistence.
Shri Jayanta Kr Sarma: Shri Jayanta Kr Sarma, Independent Researcher, emphasized learning from the ecosystem people of the northeast and adopting their ways of life, culture, and thinking. He proposed that regenerative development should be based on "Collectivism, Mutualism, Minimalism, and Altruism (CMMA)." He discussed how traditional knowledge systems, such as irrigation methods and housing practices, hold technical solutions for sustainable living.
Shri Pai Dawe: Shri Pai Dawe, General Secretary of Donyi Polo Cultural Charitable Trust (DPCCT), highlighted that Indigenous Faith and Cultural Philosophy are based on diversity, inclusion, and mutual respect. He emphasized that modernization should not mean abandoning traditional systems but rather revitalizing them with new vigor. He stressed the relevance of Indigenous faith and culture and advocated for the ban of conversions in the name of modernization.
Dr. Phirmi Bodo: Dr. Phirmi Bodo, a Professor at JNU, discussed how western narratives have stigmatized indigenous people as exotic and barbaric. She called for in-depth research to unveil the history of indigenous communities and raise awareness among the younger generation to preserve their culture and faith.
Shri Kripashankar Bhagat: Shri Kripashankar Bhagat highlighted the destruction of tribal society, beliefs, and practices due to development, endangering both tribal and wider human existence.
Dr. Tomoaki Itayama: Dr. Tomoaki Itayama, a Professor at Nagasaki University, shared his insights on development through culture and indigenous wisdom
Shri Kedar Kulkarni: Shri Kedar Kulkarni from the Heritage Foundation, Guwahati, discussed the colonial experience and its impact on indigenous communities. He suggested that self-sufficiency can be achieved by following one's own dharma (duty) and highlighted the importance of being governed by sustainability and development.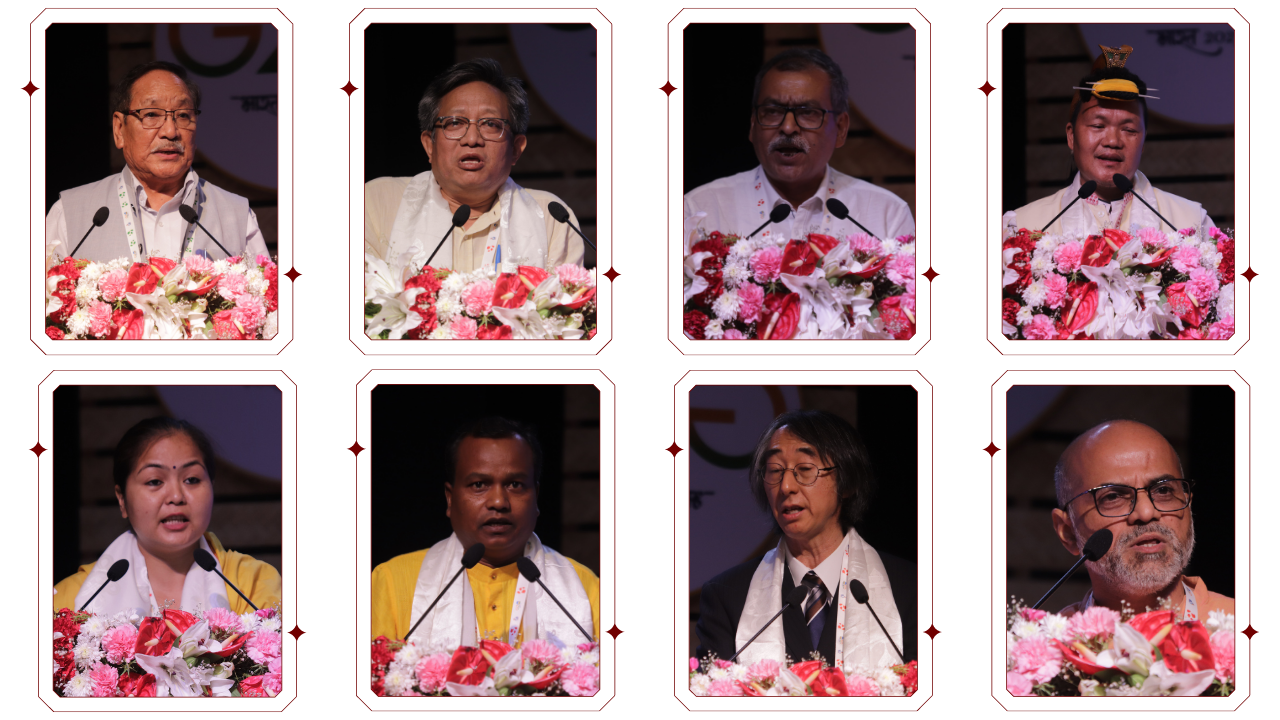 Overall, the panel discussion featured diverse perspectives on the sub-theme, with speakers discussing issues related to sustainability, indigenous knowledge, cultural preservation, and the impact of colonial experiences. Each speaker contributed valuable insights to the topic of diversity, inclusion, and mutual respect.
---
Forth Plenary session 
REVITALIZATION OF ANCIENT CULTURE FOR A MORE HARMONIOUS AND INCLUSIVE WORLD ORDER AND DIVERSE ISSUES-CIVILISATION SOLUTIONS 
Moderator Shri Shyam Parande, Global Coordinator of Seva International, moderated the session.
Following are the few highlights of the session:

Dr. Shashi Bala: Dr. Shashi Bala, International Coordinator, DIMR and President International Council of Cultural Studies, India, discussed the differences between desert and river cultures and their impact on human life. She highlighted the contrast between Western and non-Western cultures, where the former often emphasizes individualism ("I") and the latter focuses on collectivism ("We"). She outlined the objectives of the seminar theme and suggested ways to achieve them, including understanding and respecting other cultures without discrimination and documenting the chief characteristics of native cultures.
Dr. Mindahi Cresencio Bastida Munoz: Dr. Mindahi Cresencio Bastida Munoz focused on the diversity of Mexican languages and the loss of diversity due to anthropocentricism. He stressed the importance of traditional ancient knowledge for humanity's survival and urged a return to family, community, and collective dignity.
Dr. Naira Mkrtchyam: Dr. Naira Mkrtchyam from Armenia discussed the education of Generation Z and Generation Alpha, focusing on their physical and mental health.
Shri. Hyungjin An: Shri. Hyungjin An from South Korea highlighted the destruction of ancient cultures but pointed to India as an example of revitalizing lost legacies.
His Excellency Shri. Aflredo Caldera Guzman: His Excellency focused on the culture and diversity of Venezuela and called for its recognition by UNESCO.
His Excellency Shri. Jason Keats Matthew Hall: His Excellency spoke about oneness, referring to it not as a singular concept but a plural one.
Professor Esmeralda Sanchez: Professor Sanchez from the Philippines discussed the reawakening of ancient culture and the need to take from nature only what is necessary.
Smt. Assel Adilbekova: Smt. Adilbekova from Kazakhstan emphasized that diverse panoramic views, when combined, can achieve diversity with mutual respect. She suggested restoring food, festivals, and cultural art forms to revitalize ancient culture.
Shri. Juan Jose Saenz: Shri. Juan Jose Saenz from Ecuador highlighted the celebration of diversity and the unifying power of music.
Kumari Sujata Nayak: Kumari Sujata Nayak, Secretary Vivekananda Kendra Vidyalaya Arunachal Pradesh Trust discussed the difference between contract-based and relationship-based societies, suggesting that the latter should be allowed to define their own human rights framework. She also encouraged reevaluating the terms "majority" and "minority" on a global scale.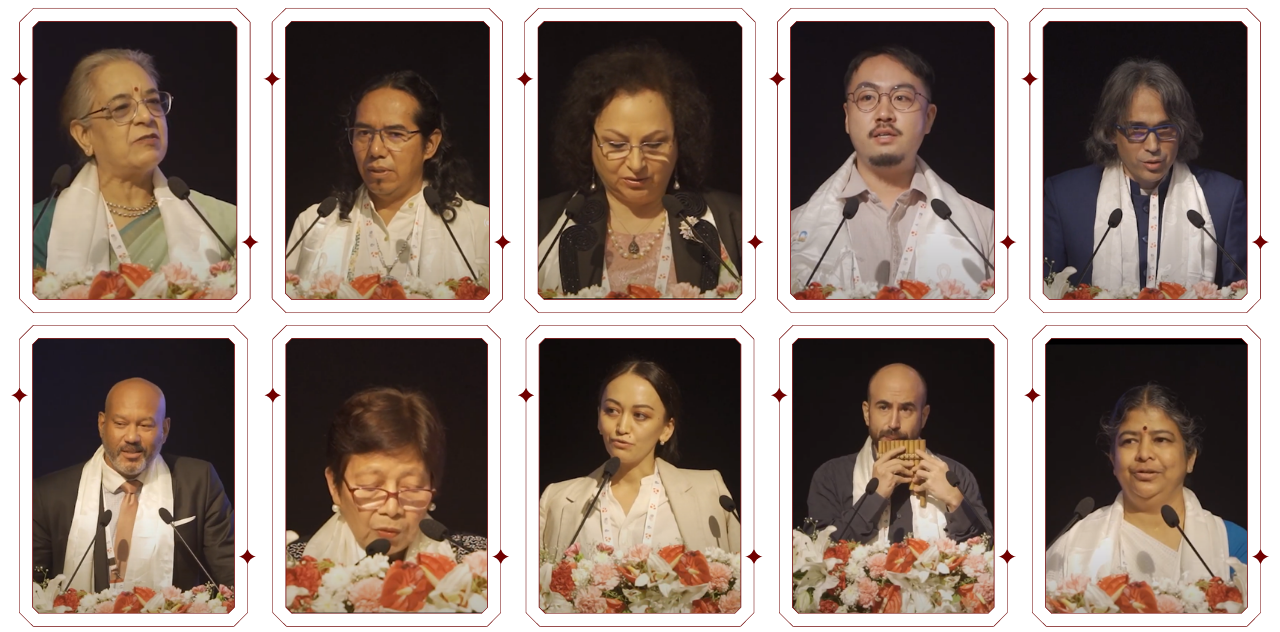 The moderator concluded the session with remarks about human duties towards the world of creation.
---
Valedictory Session
The valedictory session was hosted by Bulia Pulu, a lawyer and member of the Enjalumenda Women's Empowerment Forum. The session included an invocation prayer by students, felicitation of dignitaries, a summary of the seminar by Padmashree Nivedita Bhide, a report reading by the rapporteur, speeches by Shri Tapir Gao and Shri Chowna Mein, and a vote of thanks by Shri Bhanudas Dhakras.
Shri Tapir Gao praised the seminar's success and emphasized the importance of embracing differences for unity and survival. Shri Chowna Mein promised to consider the seminar's recommendations and encouraged delegates to take a part of Namsai and Arunachal Pradesh with them.
The session concluded with a vote of thanks by Shri Bhanudas Dhakras from Vivekananda Kendra, Kanyakumari.
Overall, the seminar provided a platform for diverse perspectives on diversity, inclusion, and mutual respect and concluded with a focus on actionable outcomes and continued efforts towards a more inclusive world.

---
---