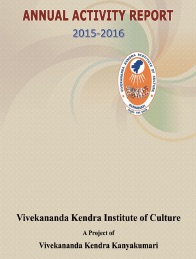 Another year has passed, and we at VKIC continue our mission of protecting and promoting the ancient wisdom and traditions of North East India. The evaluation of the activities possibly lies not in the size and shape of them, but in identification of the core value within them.
In the midst of the rush for dissecting the differences amongst the communities, in their attire and food, minor variations in the rites and rituals, the job and mission of exploring the core unity is a challenging task. VKIC is committed to this cause.
The year's activities covered an unique three-day seminar on Sawra community, held in Moran of Dibrugarh district, Assam. The Sawra is one of the tea communities of Assam rich in traditional culture. Facets of their lifestyle, rites and rituals and other important aspects of the community with definitive characteristics were presented by the community members in the seminar
The seminar on Bodo community - from the perspective of change and continuity –covered wide ranging community characteristics, which were elaborated by the experts from the community.
The Annual Minati Hazarika Memorial Lecture was delivered by Prof. Purneswar Nath,former head of the Assamese Department, Darrang College, on the topic: "Patriotismand Nationalism in the Literary Works of Lakshminath Bezbaruah.
In the Foundation Day of VKIC the highlight of the programme was the conferring of VKIC Sanmanee award to Mizo preceptor Puitham Rorelliana for the year 2016. The Sanmaan was presented by chief guest of the function, Sri Ranjan Chatterjee, former Chief Secretary of Meghalaya. He also delivered the VKIC Foundation Day Lecture on thetopic: "Development Perspectives of North East India and Environmental Concerns.
Apart from these some other activities which were taken up included: Photography Workshop at Arya Vidyapeeth College, and a number of yoga sessions organized indifferent places of Guwahati, where trainers from VKIC highlighted the theoretical and practical dimensions of this great Indian tradition.
A few books and publications also saw the light of the day. They further reinforced VKIC's position as an intellectual fountainhead and an emerging think tank in this part of our motherland.
---