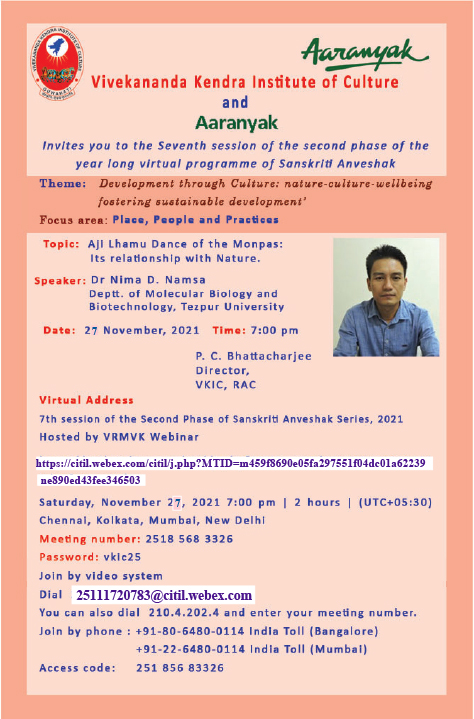 We are happy to invite you for the seventh session of this series scheduled on 27 November (Saturday) 2021 at 7 pm through the CISCO Webex virtual platform.
Topic: Aji Lhamu Dance of the Monpas: Its relationship with Nature
Speaker:Dr Nima D. Namsa Deptt. of Molecular Biology and Biotechnology, Tezpur University

Date: 27 November (Saturday) 2021                         Time: 7:00 pm
 
Please find attached the invitation for the same along with a brief about the philosophy and perspective of this series with its focus area and the schedule for the subsequent sessions in this series.
 
The link for the said session is given below as well as in the invitation card. 
https://citil.webex.com/citil/j.php?MTID=m459f8690e05fa297551f04dc01a62239
 
We look forward to your participation.
Saturday, Nov 27, 2021 7:00 pm | 2 hours | (UTC+05:30) Chennai, Kolkata, Mumbai, New Delhi
Meeting number: 2511 172 0783
Password: vkic25
Join by video system
Dial [email protected]
You can also dial 210.4.202.4 and enter your meeting number.
Join by phone
+91-80-6480-0114 India Toll (Bangalore)
+91-22-6480-0114 India Toll (Mumbai)
Access code: 251 117 20783