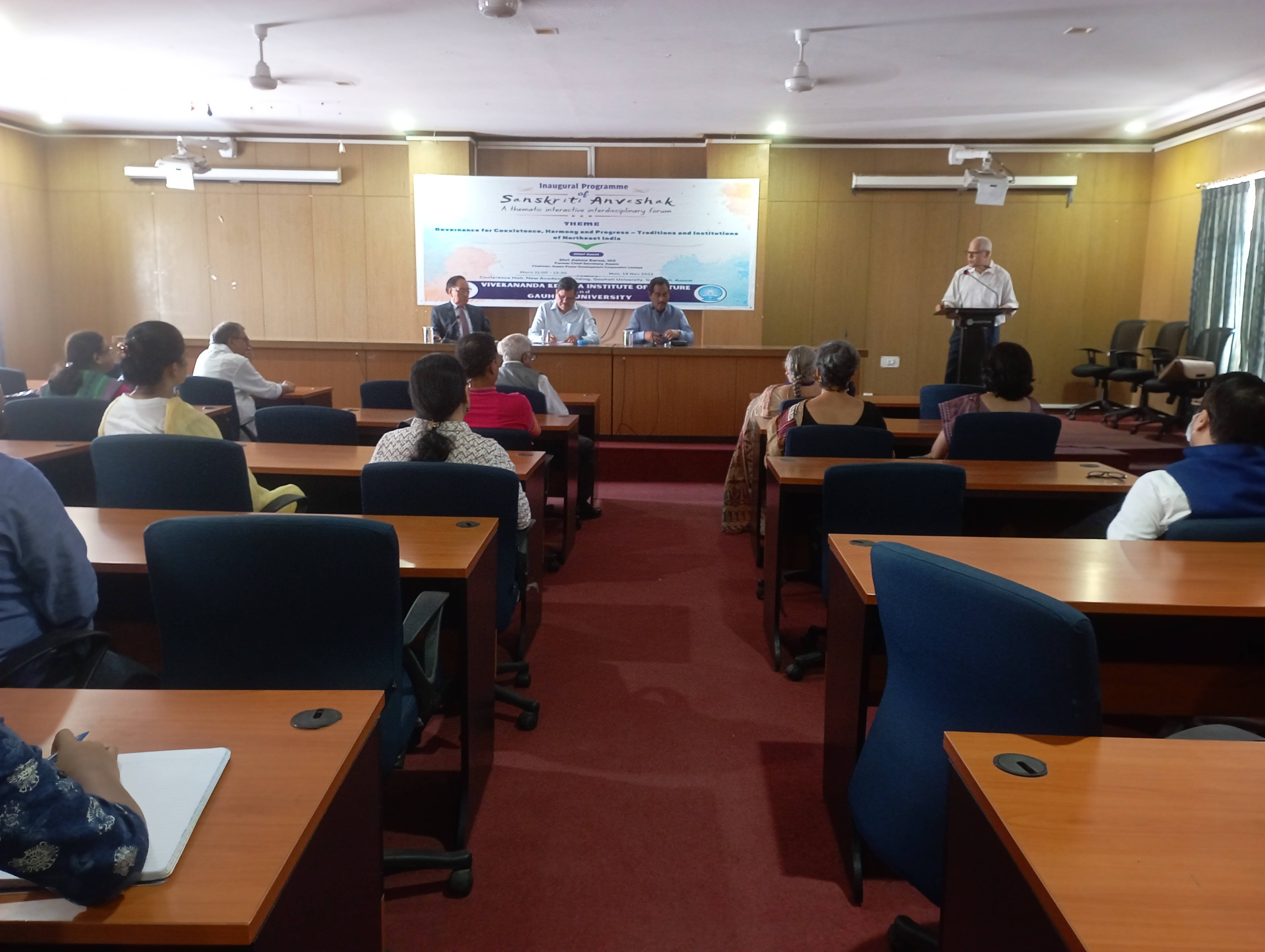 On 14th November, 2022, Vivekananda Kendra Institute of Culture in collaboration with Gauhati University, organised a curtain raising programme of Sanskriti Anveshak Lecture Series, for the year 2022.
This year the lecture cum interactive series is based on the theme "Governance for Co-existence, Harmony and Progress–Traditions and Institutions of Northeast India" divided into the following sub-themes :
History of Governance in North East.
Governance for natural resource management/ ecological security.
Governance for social security, cultural rights, wellbeing and harmony.
Governance for future.
Sri Dipankar Mahanta, the Joint Secretary of VKIC anchored the programme while Dr. Joram Begi, Chairman, VKIC welcomed the gathering and spoke about VKIC and its activities.
The concept of the theme and the proposed series was explained by Sri Jayanta Kr. Sarma, Member of the Research Advisory Council of VKIC and a Freelance Consultant on Environment and Development.
The Hon'ble Vice Chancellor of Gauhati University, Prof. Pratap Jyoti Handique, also addressed the gathering. The Prof. welcomed the initiative taken by VKIC appreciating the forum and its name 'Sanskriti Anveshak' and that a very appropriate theme has been taken up which is the need of the hour. Prof. Handique briefly shared his years long experience in research and the wide scope it has to further delve deeply in its social science dimensions which are of high social value. Appreciating the idea the Professor ensured heartfelt co operation from his part.
The Chief Guest of the programme was Sri Jishnu Barua, IAS, and the Former Chief Secretary, Assam. He is currently the Chairman of Assam Power Development Corporation Limited. Addressing the gathering, Sri Barua expressed his honour for the invitation. He mentioned how traditional institutions of the North East are either in a stage of decline or is not as functional as it was before and wherein lies the challenge to discuss its relevance. He cited examples of Kebang of the Mising Community, the Hangseukia of the Zeme Nagas, the Posa system of the Ahoms, etc and how difficult it is to collect the long-scattered tradition, and to be modified enough to fit
modern needs.
He expressed concern over the effects of imperial domination on the tribal culture and felt that through the planned sub-themes and the interactive sessions thereof interesting outcomes will come forth which will be relevant and beneficial to today's society.