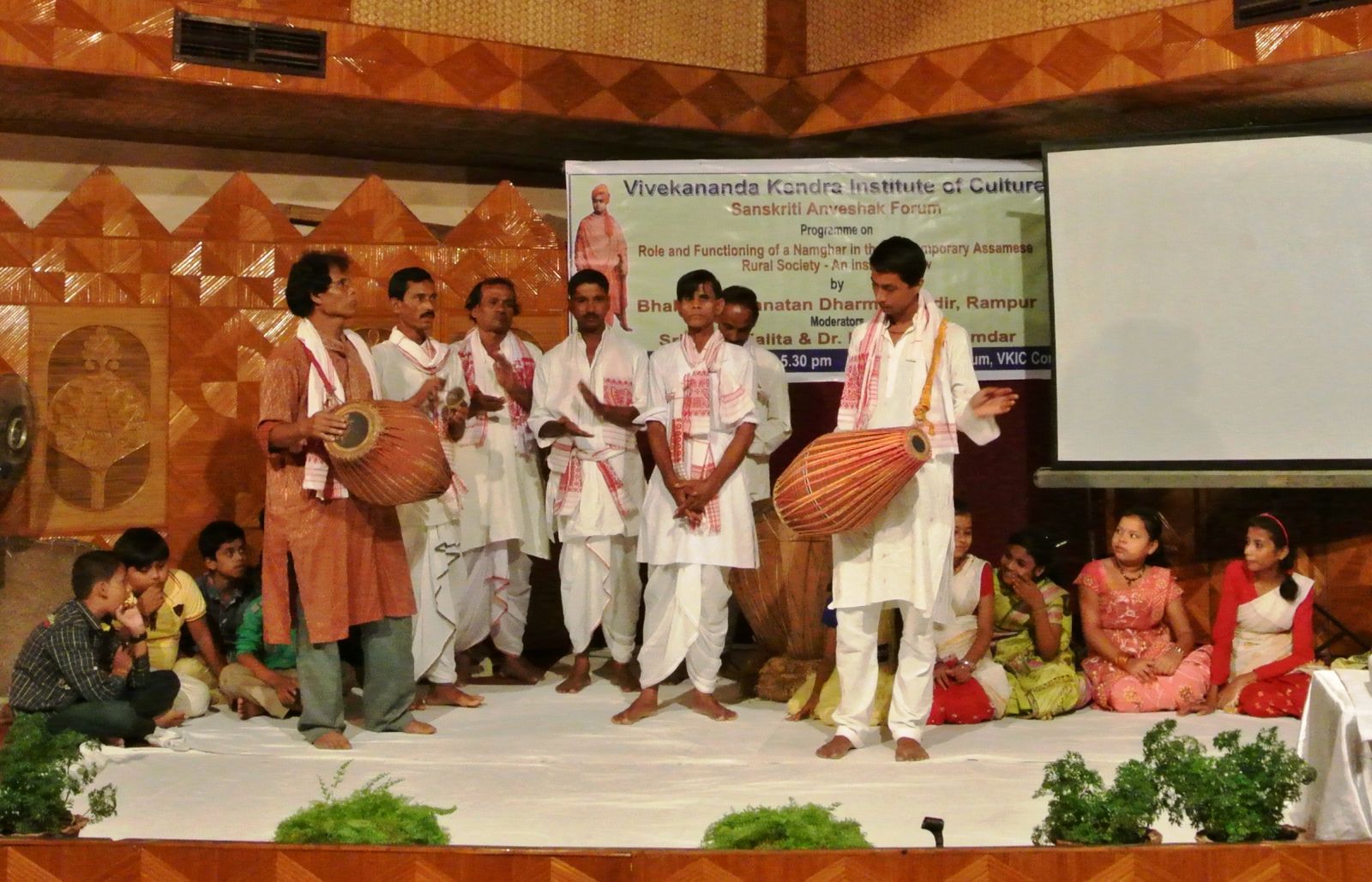 Vibrant facets of a historic temple-cum-Namghar came alive in a stage performance on August 30. The devotees of Santan Dharma Mandir, Rampur presented several devotional songs and dances to an audience enabling them to get acquainted with a less known but significant cultural heritage of Assam.
The devotees representing various age groups sang devotional songs, which have been practised for about 90 years by locals. The songs revealed their firm faith in Vaishnavite religious traditions. The youth of the region have been trained in the art by veterans, a process that continues till today.
A medley of traditional drum beating (doba) by devotees made an impact on the audience. The beating of the drums differs from one occasion to another. After years of practice, the drummers can change their style to convey different messages to people of surrounding areas. There is even a style of drum beating _ a fast and furious rhythm _ that spreads the message among people to become alert in the face of crisis situations.
Among the items in their repertoire was a performance of Dadhi Manthan, depicting the lovable antics of Lord Krishna. Children associated with the temple enacted a lively scene much to the delight of the audience, which also comprised cultural researchers.
A member of the Santan Dharma Mandir in his interaction with the audience mentioned that apart from the religious and cultural events, the Mandir played a role in furthering education and social awareness on  issues which affect the life of local people. Moreover, it also acted as an instrument for settling individual disputes and other contentious issues. The elders of the temple ensure that honourable settlements are made among stakeholders. Thus peace and harmony is maintained without taking recourse to the law.
Distinguished academic, Prof. A. C. Bhagabati, who presided over the function, in his welcome speech introduced the Santan Dharma Mandir, said that there is much to be learnt from such an old and illustrious institution. Journalist Pulin Kalita and academic Dr. Rahul S Mazumdar moderated the session.