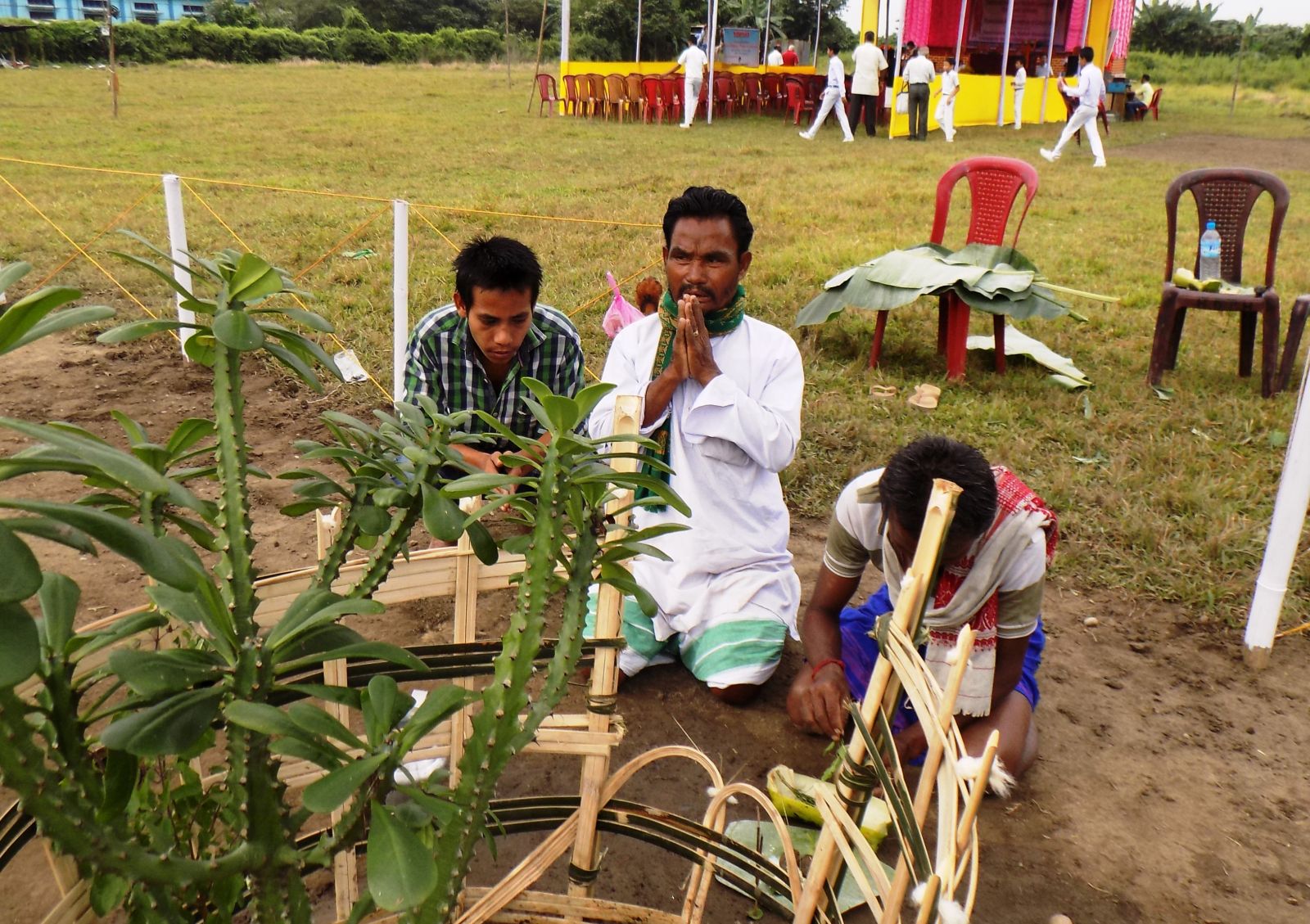 The two-day seminar on 'Traditional Systems of the Bodo Community – Change and Continuity' took place at Vivekananda Kendra Vidyalaya, Kajalgaon (VKV) ground on October 31 and November 1, and brought together intellectuals and academics from different backgrounds.
During the programme they discussed about issues related to the history of the community and their possible (not unanimously agreed) migratory routes into present settlements located both the North and South banks of Assam. Some of them dealt with the early customs and traditions, of which some still continue, albeit changes over time. Customary laws were also explained to the extent possible. One of the significant issues – a conjoining thread in many of the research papers, from different perspectives – was the connection of the Bodo community with Nature in its animate and inanimate forms. For example, their knowledge and use of herbs and shrubs was highlighted by several participants. The common grounds from which Bathou and Brahma beliefs were discussed in some detail, but appeared – to this report writer, a lay person – that this had scope for more discussions.
With an aim to provide a birds eye view of the programme, an attempt has been made through the following paragraphs, parts of which were released to the press on the second day of the seminar (November 1, 2015)
The seminar was organized by the Vivekananda Kendra Institute of Culture, Guwahati in collaboration with Department of Bodo, Gauhati University.  Sri Jiten Borgoyary, Chairman managing committee of VKV Kajalgaon, presided over the programme. Borgoyary's presence was significant because as a former DC he had overseen developmental plans for the region. Apart from his prepared comments he shared a few insights about the local community with this report writer.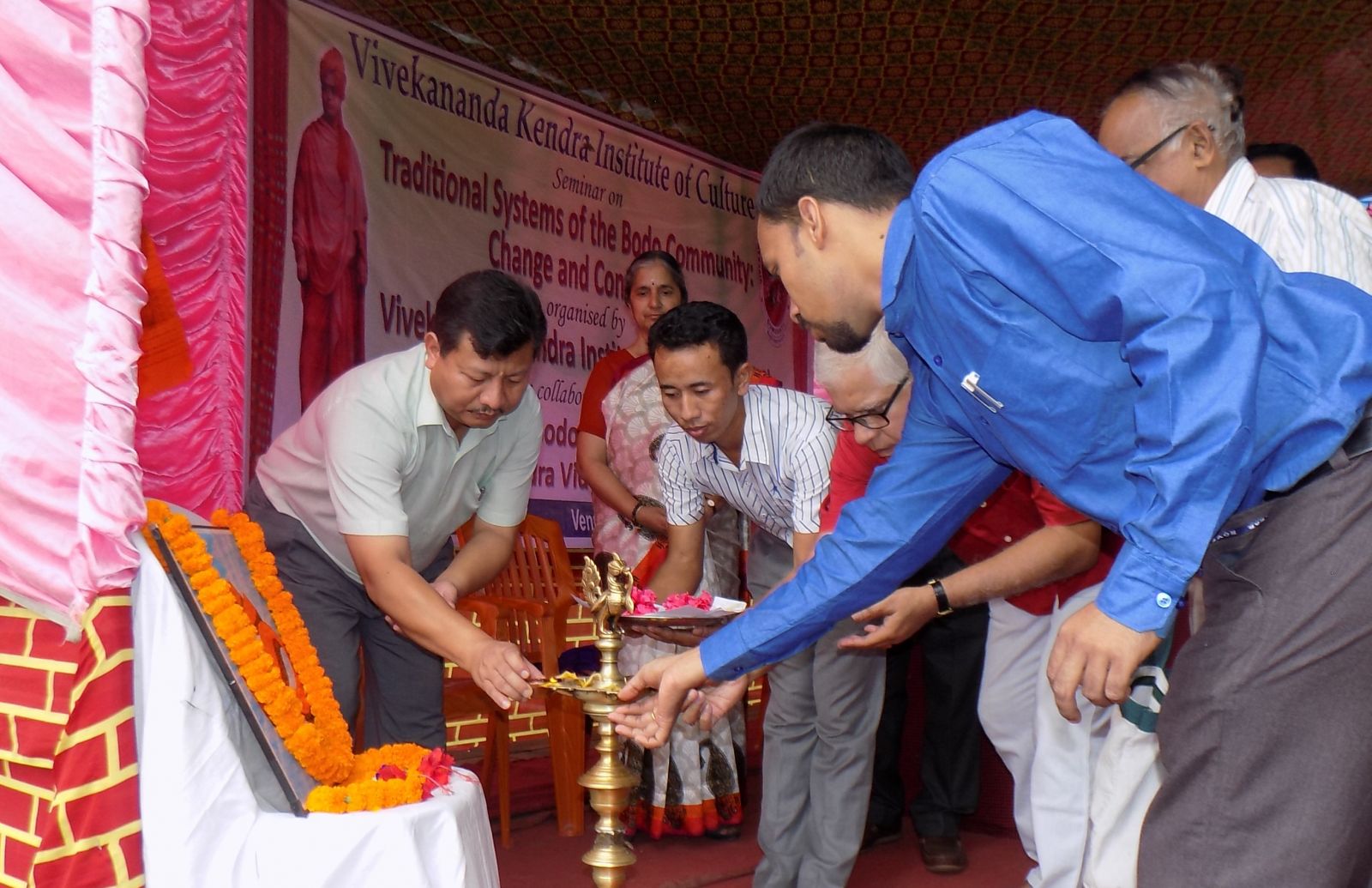 The seminar focused on several issues related to Bodo culture in its widest manifestations in an area in which many of the Bodo cultural traditions and mores are intact, and have added to social cohesion and inclusive development.
A researcher underlined how nearby cultural forces from their East as well as West are shaping the cultural milieu of the Bodos residing in Assam's Northeastern Part.
Delivering the keynote address in the inaugural function distinguished intellectual from Arunachal Pradesh, Dr Joram Begi appreciated the strengths inherent in Bodo culture and their varied expressions in their society as well as in southern parts of Arunachal Pradesh.
The Bodos are among the earliest original inhabitants of the region, and they have retained many significant features from the past. A keen appreciation of Nature, a dependence on natural resources, mutual collaboration, and a pride in their pristine culture defines the community. The large population has also accepted changes that have come their way over time.
He valued the community's efforts to retain and celebrate some fine cultural traits from their ancestors. The development of their language over the years, their skill with traditional weaving styles and materials are truly exemplary.
However, no culture can flourish without it being dynamic. The Bodos should also accept changes wherever they deem it fit, while holding on to those which are for their advantage, he added. To bolster this point he referred a very small community in an island in the Andaman archipelago whose numbers have sharply declined within a span of three decades. The reason was that they had resisted any interaction with the world outside.
Inaugurating the seminar, Chief Guest Sri Chandan Brahma, MLA praised the VKIC and Gauhati University's Bodo Department for organizing the seminar at Kajalgaon with which he has had a long association, especially in relation to the developmental activities of the area.
In his address, he referred to some features peculiar to the Bodo community, which show their understanding of Nature, their architecture, farming system, and healthy lifestyle.
With references to his visits in New Zealand and Scotland, he said that much could be learned from those communities who have used local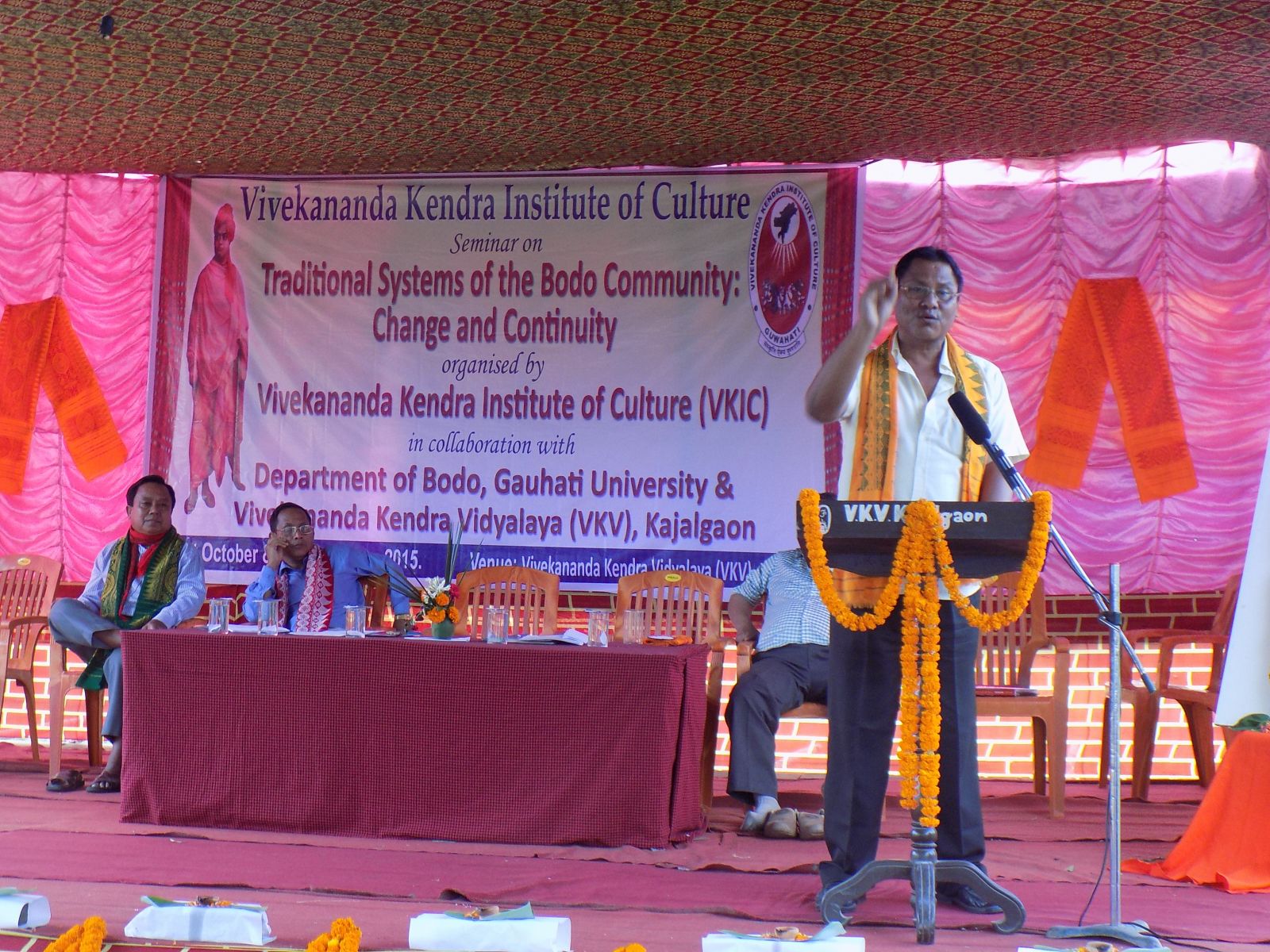 resources to their advantage. For that to happen, he said that some cultural attributes of the Bodos need more studies, and can be used to effect positive economic changes for the larger welfare of the community. As an example, he pointed to Bodo food ingredients which were organic and hence more healthy than food produced through artificial fertilizers.
Brahma spoke about Bodo traditional archictecture that used locally available material which created an ambience suitable for summer heat. Their design was such that they kept the insides well ventilated without recourse to modern technology.
He committed a sum of Rs 5 lakh for the development of the Vivekananda Kendra Vidyalaya, which he commended for its efforts in promoting education in the area. A VKIC worker said that this be put on record for future reference.
Academic sessions were attended by scholars  and researchers from Gauhati University and several colleges. The first session chaired by Dr Bhupen Narzaree was on Oral history, Gods and Goddesses, Bathwu rituals, Kalicharan Brahma and Brahmanism, and Kherai ritual. In this connection it may be added that Bodos in their traditional mode of worship revere the five elements of nature. A Bodo elder told this report writer that the number 5 had deep significance in their community. Even the Siju plant (a type of cactus) had 5 angles in its body.
The second session was on the subject: Family and kinship, traditional self- governing institutions, and marriage system. The papers submitted were on Family and kinship, Customary law of the Bodos, Bathwu marriage system, Brahma marriage system. It was chaired by Dr Anil Boro.
Dr Leeladhar Brahma chaired the third session on Community festivals and village organisation. The papers presented included Seasonal and religious festivals of the Bodos, Role of bamboo in religious and other festivals, and Traditional village organization.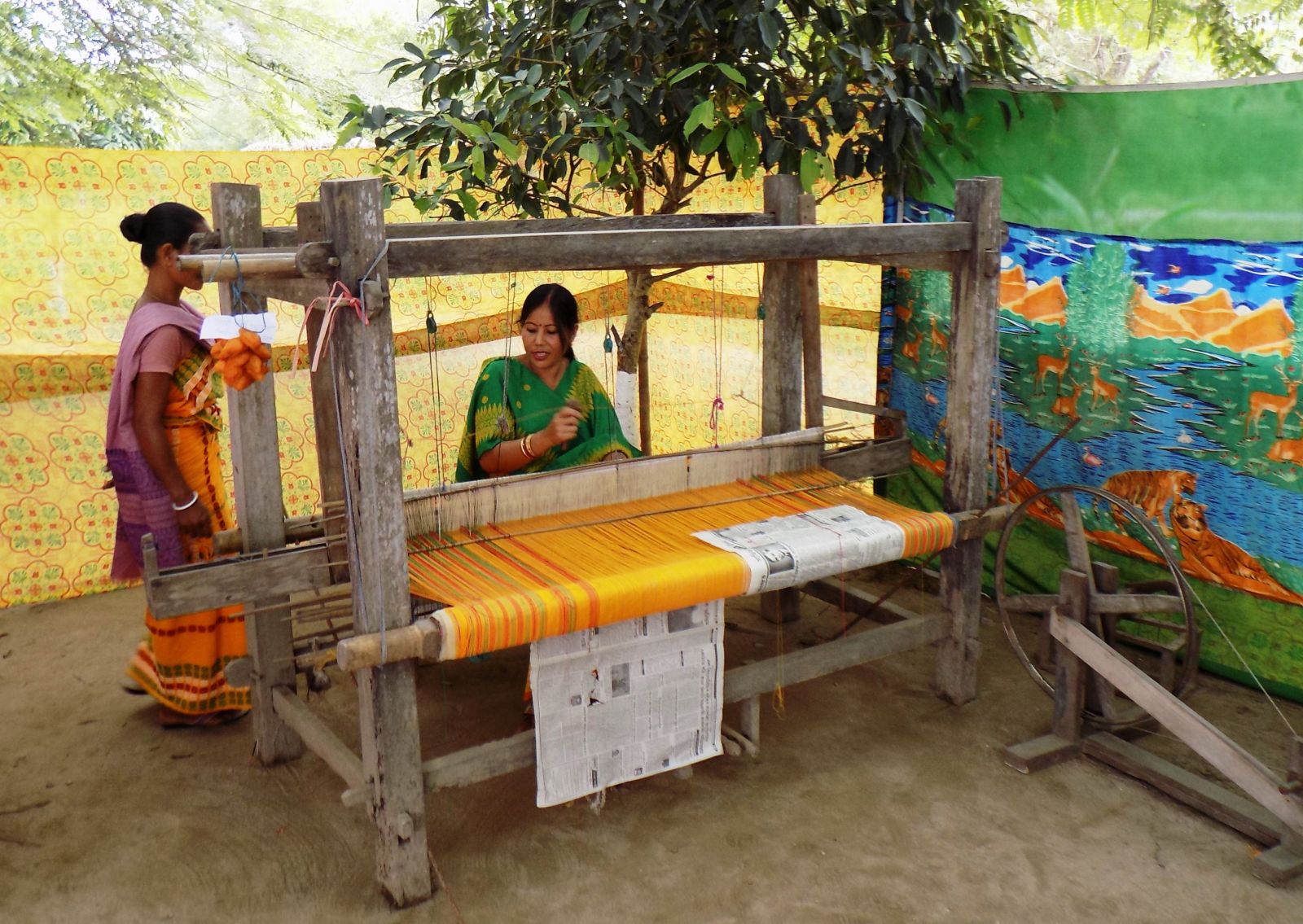 The fourth session on Divination was chaired by Sri Toren Boro and comprised papers on The Bathwu Divinity and Brahma Divinity. The worship are not mutually exclusive. A Bodo even though a practicing Bathou can and does revere the principles of Brahma (the newer mode of worship). 
After each of the sessions lively interactions took place in which the speakers interacted with other participants as well as people from the Bodo community present in the venue. However, it may be pointed out that some sessions didn't have the kind of interaction that could have been expected. On at least four or five occasions the interactions were in Bodo language, so this reporter failed to understand the conversations.
In the valedictory function, Mananeeya Nivedita Bhide, a Jeewan Brati of VK and at present its Vice President, expressed her reverence to the Bodo and other tribal communities. She felt that the actual idea of Bharat can be realised in these very communities.
She requested the Bodo community not to lose their ancient roots. But while we are rooted in our culture, we should also enlarge and enhance it. Our outer forms of culture may change, but the inner core should not.
Manaeeya Bhide made the observation that the Bodo with other indigenous communities reveal a sense of gratitude towards nature, something we all need to have.
Even though there have been some sporadic clashes, which often are exaggerated, most of indigenous people have leaved in peace within themselves and with their neighboring communities. 
One of the highlights of the seminar was a representative Bathou worship on the first day of the seminar. A priest of the community and two of his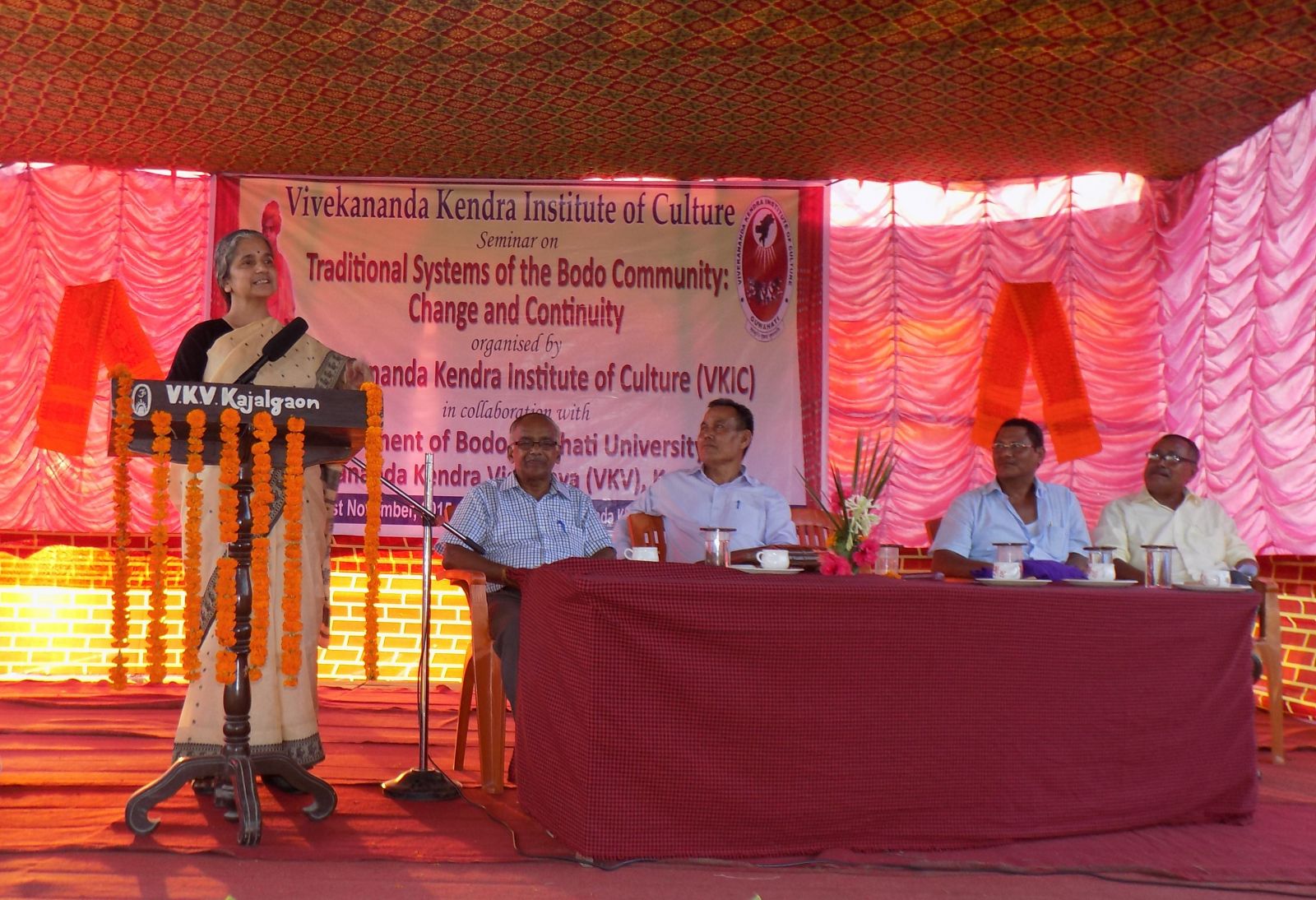 associates demonstrated how a Siju plant is worshipped in a prepared area measuring about 12 feet by 24 feet (approx.). They chanted Mantras through the Bathou spirit is propitiated. The next day at the same place the faithful congregated and sang devotional songs accompanied by a traditional drummer.
The other significant event was a one day exhibition showcasing Bodo material culture. A number of handicrafts were on display revealing the best of Bodo textiles and garments. There was a live demonstration on a traditional loom. A number of food times, constituting the plant products and meat products, were made available for tasting.
The seminar would not have possible without a few people who could be termed 'unsung heroes'. The teachers, staff, and students of the VKV Kajalgaon went the extra mile to help organize the event by contributing time, effort, and resources to make it a success. Apart from others, Sri Pranab Narzary, lecturer in Pandu College did crucial legwork in contacting people and acquiring research papers.