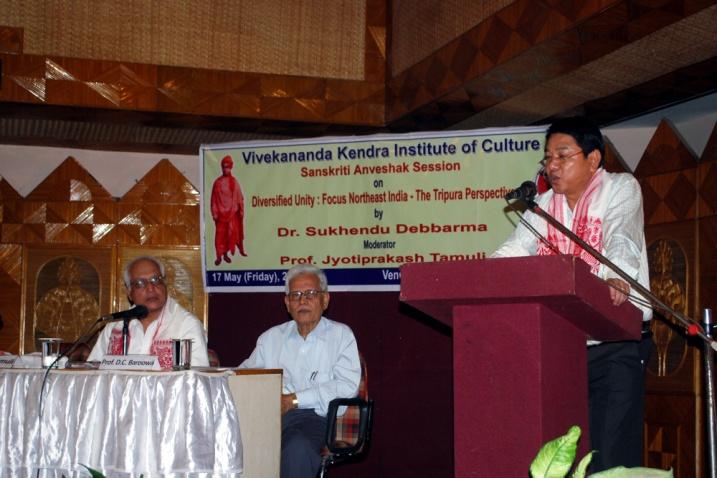 The Sanskriti Anveshak forum of Vivekananda Kendra Institute of Culture, Guwahati organized a talk cum interactive session on:  Diversified Unity: Focus Northeast India- The Tripura Perspective on Friday, 17 May, 2013 in the VKIC premises at Uzan Bazar, Guwahati. The talk was delivered by Dr. Sukhendu Debbarma, Associate Professor, Department of History, Tripura University, Tripura. The lecture was the fourth of the ongoing lecture-series on Diversified Unity: Focus Northeast India.

In his talk, Dr. Debbarma elaborated that Tripura has a history of being ruled by as many as 184 kings belonging to the Boroks. The state is the homeland to about 19 ethnic communities like the Tiraps, Riangs, Jamatias, Noatias, Uchais Mogs, etc. who share common features and identity as Borok and speak a common language called the Kokborok. They have their unique socio-economic, religious, cultural traditions and food habits yet they have been co-existing peacefully since time immemorial, with each community contributing significantly towards the cultural heritage of Tripura. Dr. Debbarma talked of different focal points of convergence like water, bamboo, festivals, dances, youth dormitories etc. which are spaces of intense social interaction of the different communities. Dr. Debbarma further spoke of Tripura's contribution to the country in fields such as music, art, literature, etc, as well as about the outside influences that shaped the cultural heritage of Tripura. Dr. Debbarma further talked about the abrupt demographic changes that have come after independence.
In his summing up, the Moderator Prof. Jyotiprakash Tamuli, Head, Department of Linguistics, Gauhati University appreciated the informative and enlightening talk of Dr. Debbarma. He was impressed by the range of subjects he covered including geography, history, demography, culture of Tripura with certain focal points of convergence.  Prof. Tamuli opined that we can remain united only when we feel secured in our diversity.
Prof. A C Bhagabati, Tagore National Fellow, Ministry of Culture, Govt. of India and Member, Research Advisory Council, VKIC opined that the emic perception of Dr. Debbarma unfolded Tripura before the gathering in a cinematic way.
Earlier in the evening, Prof. D. C. Baroowa, Director, Research Advisory Council, VKIC presided over the session and delivered the Welcome Address. Shri Subhobrata Mukherjee, Member, Executive Council, VKIC introduced the guests to the gathering.