Third Session of Sanskriti Aniveshak
Sanskriti Anveshak lecture on 'Traditional Mediation Mechanisms and Governing Paradigm with reference to North East India' held at Gauhati University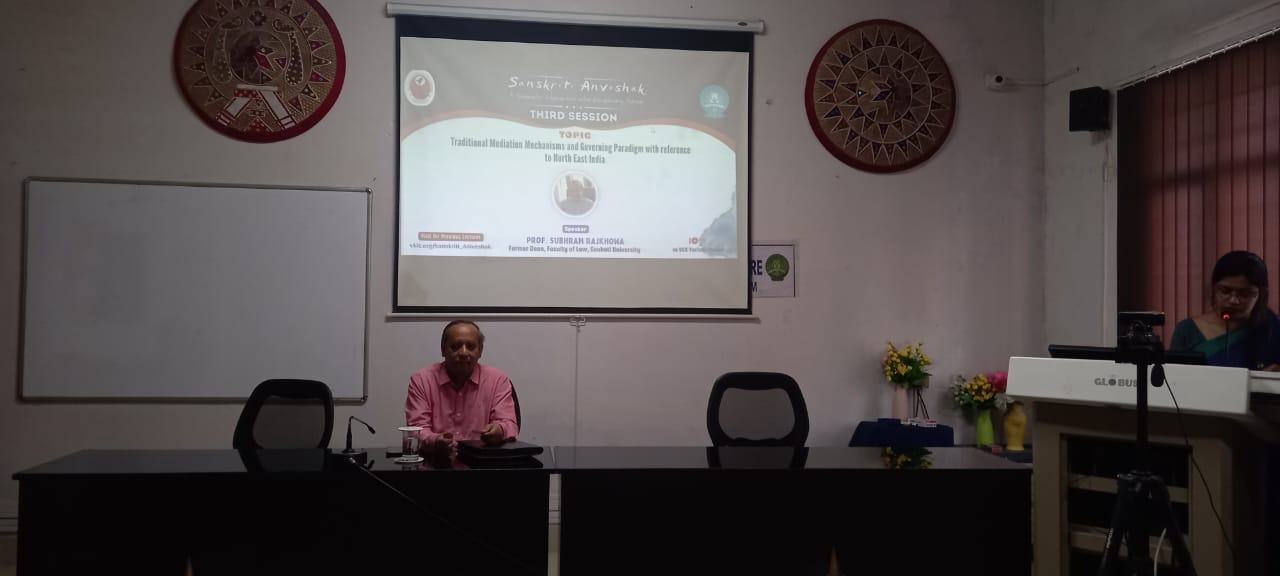 On 25th March, in the Sanskriti Anveshak session,the third in the series on the topic 'Traditional Mediation Mechanisms and Governing Paradigm with reference to North East India'was deliveredby Prof. Subhram Rajkhowa, Former Dean, Faculty of Law, Gauhati University at the UGC- HRDC (Human Resource Development Centre), Gauhati University.
The program started with the welcome speech by Sri Dipankar Mahanta, Joint Secretary, Vivekananda Kendra Institute of Culture (VKIC). He shared about the works VKIC is pursuing with the motto "Culture Nurtures Unity" by organising community seminars, workshop, documentation, aimingat 'Development Through Culture' that implies living in harmony with nature where he emphasised that through such work VKIC tries to inspire the local people to take leadership of such work in this region.
He added that in India, with regard to the economic position of the people, the society is divided into two distinct classes: the haves and the have nots.But, India is a developed nation now and is aland of peace and prosperity,if compared to her neighbouring states. And this progress could be reasoned as India is rooted in her traditions and customs and sourced into her culture.
While talking about the Northeast India he mentioned that in the world, Asia has the largest number of indigenous peoples, out of which, India has the largest in number and in India, the North East region is very rich in indigenous culture of traditional governing systems. Andthe same is adopted and continued till this day in some states of Northeast India with autonomous district councils, working to preserve and protect these indigenous traditional institutions. For the same reason the 5th and 6th schedule was incorporated in the Indian constitution.
According to him there were certain regulations as well as recognitions of these traditional systems as these institutions proved to be transparent when it comes to good governance and also they playedvarious important roles. For this,the UN, after eruption of the rights of indigenous people after 25 long years of liberation, recognized this indigenous institutions and had passed a resolution for preservation of the indigenous culture. In case of dispute, the mediatory role played by these institutions used to be fruitful, without animosity where the state mediatory mechanism failed to do so. He stated that in many cases state sponsored mediators yielded no result in resolving the state boundaries between Assam and Nagaland and vice- versa.
He particularly mentioned Arunachal Pradesh, where the village councils are very active the Apatanis, the Monpas etc. who are generally Buddhists, or the Idu Mishmis and they have been always very active in dispute resolutions and such were the system for so long.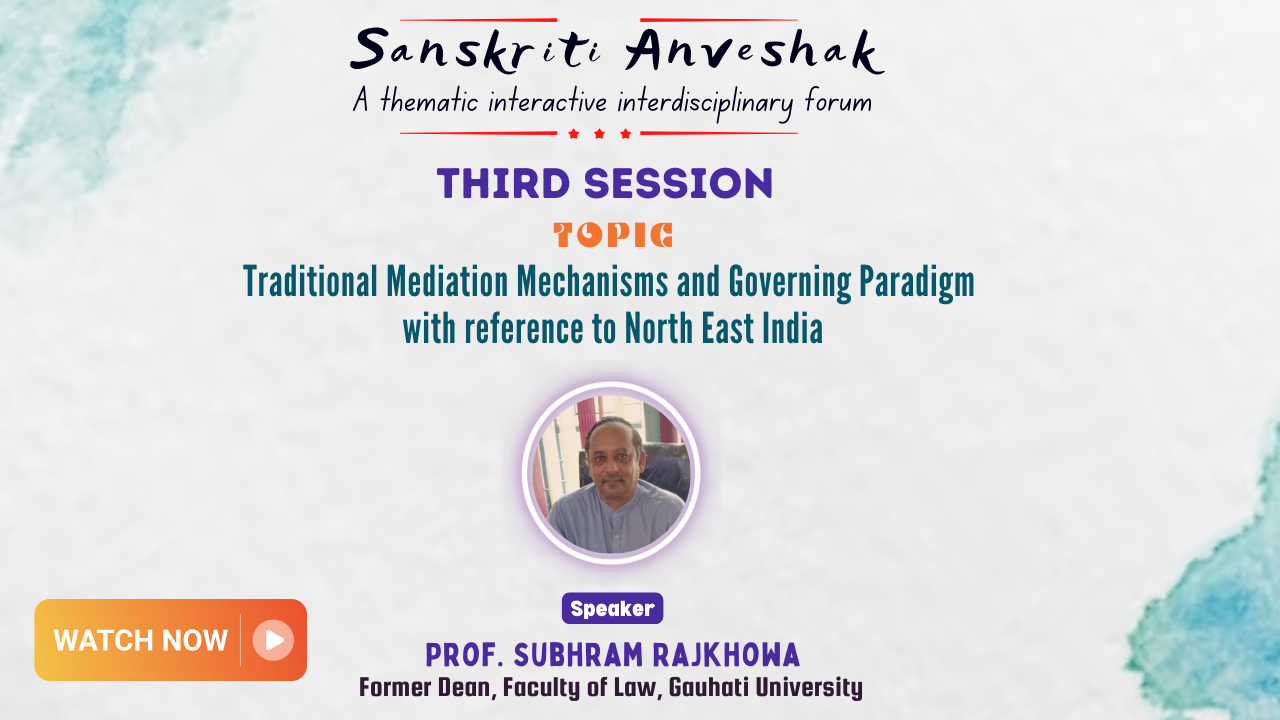 He also mentioned that Alternate Dispute Resolution (ADR) mechanism is implemented successfully through traditional mediatory methods, which is cost effective. The tribal institutions have better way of resolving the dispute, though it varies from village to village and community to community because of the inherent traits of delivering justice through village headman and its council, better known as Village court. The disputes are settled by giving Oath through various ways. And with a passage of time these ways got recognised and are found in modified forms, formalised through different Acts, where government cannot intervene whether through District Court, High Court or Supreme Court and thus have adopted pluralistic legal system like that in Dima Hasao and Karbi Anglong district of Assam.
The lectures were followed by an interactive session moderated by the Joint Secretary of VKIC where the participants interacted and shared their observations and comments with the speaker.
The formal vote of thanks and words of gratitude was delivered by Dr Samir Sarkar, Faculty Member of the MBA Department and Member of this SA Series. The programme concluded with Shanti Paath.